~緣起設施~
淨業林成立緣起:Inception of Amitabha Chanting Hall
佛光山自 1997年封山之後, 曾對廣大信眾承諾, 今後將繼續加強教育、文化、修持等工作,帶領大眾修身養性,提昇人格,淨化心靈。為遵守諾言,並緣於社會大衆的需求,進而配合政府週休二日,特別開闢每週六、日的修行活動。如:禮懺、禪坐、念佛、抄經、朝山、八關齋戒、佛學講座…等。之後爲了鼓勵僧信二衆,有個精進修行辦道的處所,並以專修淨土念佛為主;遂於七七四十九天的佛七圓滿日,成立念佛堂,並由大師親自命名為「淨業林」。取其淨業相續,西方極樂淨土中,為清淨三業之諸上善人聚會一處之意。
After its closure to the public in 1997, Fo Guang Shan Monastery has continued enhancing its activities in education, culture, and cultivation to lead the public in nurturing morality and spirituality, in elevating one's integrity and in purifying one's mind. In order to keep its commitment and to fulfill the need of devotees, activities for weekend cultivation such as repentance ceremony, meditation, chanting, sutra transcription, pilgrimage, eight precepts retreat, and Dharma lecture were set up. A chanting hall was specifically provided for the 49 days of Amitabha chanting retreat. This venue was named "Amitabha Chanting Hall "by Venerable Master Hsing Yun. This is intended to be the gathering venue of all virtuous people to continue their practice for the Western Pure land in purifying the body, speech and mind.
宗旨:Objectives
念出慈悲喜捨 長養清淨柔軟
增進融和歡喜 建設人間淨土
To give rise to a mind of kindness, compassion, joy, and equanimity
To nurture purity and gentleness
To promote harmony and joyfulness
To establish a pure land in the human world
組織:Organization
淨業林乃隸屬於佛光山宗委會之下,佛光山修持中心之一。設堂主一位,現有職事、清眾等,分別負責行政、總務、法務、念佛修持等及對外接引信眾之事務。
Amitabha Chanting Hall is under Fo Guang Shan Board of Directors. It is one of the three cultivation centers in the monastery. There are the head of the meditation hall, monastics with existing duties, and devotees of pure faith who are responsible for the tasks of administration, general affairs, chanting cultivation, and receiving devotees.
設施:Facilities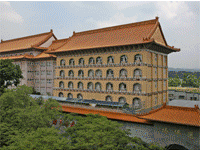 淨業林位於本山的玉佛樓六、七樓。介於雲居樓選佛場及如來殿之間。七樓佛堂莊嚴寧靜,總坪數為138坪,中央供奉莊嚴的玉佛一尊;佛堂四周掛有歷代古德、高僧的念佛法語掛軸。平日開放僧信二眾隨喜念佛、靜坐。讓人於此念佛,彷若置身於西方極樂世界般的祥和寧靜、清涼自在。六樓除有辦公室外,設有圖書室,藏書約一千多冊,供本單位僧眾進修及來山蓮友閱覽。
Amitabha Chanting Hall is located in the 6th and 7th floors of the Jade Buddha Building which is between the Gateway to Practice of the Cloud Dwelling Building and Tathagata Building. The Buddha Hall is solemnly tranquil. It has an area of 138 "ping" with the jade statue of the Buddha enshrined in the middle of the hall. Scrolls of sayings on chanting by ancient sages and eminent monks hang around the walls. On ordinary days, the venue is open to monastics and devotees for chanting and meditation. Through chanting, it makes one feels the presence of the serene and harmonious land of utmost bliss, cool, refreshing and being at ease. The 6th floor houses the office and the library, which has a collection of more than a thousand books for reading and advanced studies for the monastics and the devotees.