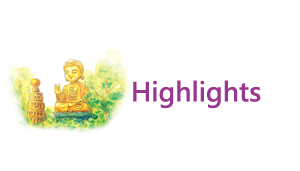 Background
Since 2005, Merit Times has organized the Vegetarian and Organic Food Expo to promote vegetarianism, which is an alternative healthy option and is also environmentally friendly as it helps reduce carbon emissions.
In 2014, the vegetarian expo was combined with the international book fair. The concept was to combine vegetarianism and reading. For the past two years, this combination has been well-received by the general public. In addition, Fo Guang Shan aims to promote reading in Taiwan, China and Japan with the use of the Cloud and Water Mobile Libraries.
This year, the Kaohsiung government collaborated with the Buddha Museum to host the Book Fair & Vege Expo. The event will showcase books catered to various ages, multicultural cuisines, and numerous activities including the National Reading Exposition and other outdoor activities.
We hope you can join us.
Sutra-Drying Ceremony
The sutras are collectively known as the Dharma Gem in Buddhism. Through the process of drying sutras, as if taking care of it, this action protects these precious scriptures and thus enables one to accumulate merit and wisdom. The ceremony will take place on the grounds of the Buddha Museum. Sutras that would be used during this ceremony include the Diamond Sutra, Avatamsaka Sutra, Lotus Sutra, Fo Guang Buddhist Canons, as well as numerous pieces of the One-Stroke Calligraphy by Venerable Master Hsing Yun. This unique practice, based from the Tibetan Buddhist practice of drying sutras, will take place for first time at the Buddha Museum.


Sutra-Drying Ceremony
Nov 4 (Sat) 09:00-10:30
Bodhi Wisdom Concourse
During the Book Fair, artists from the Henan Puppet Theater will perform a play titled "Little Horse Crosses the River." The play, created by the Henan Arts Center, is a fairy tale with the Twelve Chinese Horoscopes as the main leading roles. The play integrates the use of animation, puppets, and musical to stimulate a creative and entertaining atmosphere for modern viewers of traditional puppet shows.
Little Horse Crosses the River Venue: Great Enlightenment Auditorium Showtimes:
Nov 04-Nov 05 (Sat-Sun) 14:00
Nov 06-Nov 10(Mon-Fri) 10:00 & 13:30
Nov 11-(Sat) 11:30
Nov 12-(Sun) 11:00