2018 International Youth Seminar on Life and Ch'an Admission List
We are pleased to announce the 2018 International Youth Seminar on Life and Ch'an Acceptance List as follows. Please check for your name and registration ID, and complete the online transportation slip before June 30 th , 2018. Failure to submit your transportation information before this date will result in cancellation of participation.
Admission List_Meditation + Seminar Week
Admission List_Seminar Week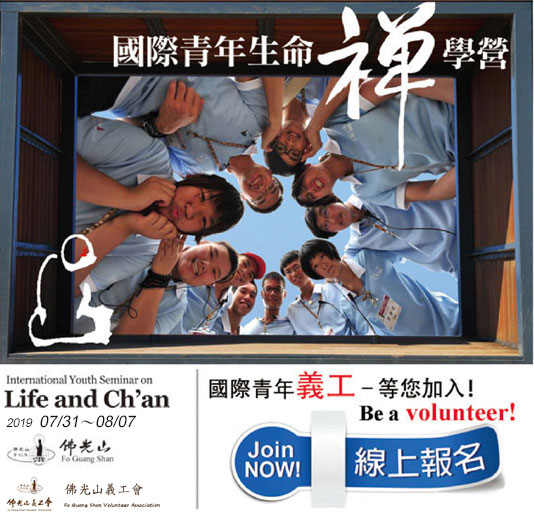 Using the Three Acts of Goodness (Do good deeds; Speak good words; Think good thoughts) as the guiding philosophy, provide a communication platform for outstanding and talented youths worldwide. Develop coexistence, service, mutual assistance and altruism through discussion on various topics such as culture, education, spiritual and environmental preservation to promote social harmony and world peace.
Date and number of participants:
1) Retreat: July 22nd ~ 29th, 2018 (Sun~Sun), close: 13:00, July 29th .
     150 Retreaters worldwide.
2) Seminar: July 29th ~ August 3rd, 2018 (Sun~Fri), register before 19:00, July 29th .
     500 Seminar participants worldwide.
Venue:Fo Guang Shan Monastery, Kaohsiung, Taiwan
Target Audience: Higher Education Youths Worldwide aged 18 to 35 (single).

Only those who have already participated in a prior Seminar or by recommendation from a Fo Guang Shan Department/Branch are eligible to participate in the Retreat.
Applicants for the Retreat are expected to attend the entire two-week event, Seminar included.
Those who opt for attending the Retreat are required to make a US$100 deposit, which will be fully refunded at the end of the event upon complete and satisfactory attendance (Strictly followed the rules of the monastery, and have never been late or left early.)
Participants of the one-week Retreat are expected to follow the set schedule and rules of the monastery.
In addition to meditation, chanting, discussions, and lectures, the Retreat will also include daily practices such as chores and cleaning.

Organizer: Fo Guang Shan Monastery
Co-organizer: Fo Guang University, Nanhua University, University of the West, Nan Tien Institute, Guang Ming College
Administrative Organizers: FGS Volunteer Association, Department of Buddhist Studies - Fo Guang University, FGS Tsung-Lin University

Content:
1. Lecture Topics: Buddhist View on Life, Buddhism in Daily Living, Humanistic Buddhism
2. Applied Buddhism: Life in a Ch'an monastery, community works.
3. Spiritual Cultivation: Outdoor meditation, chanting the Buddha's name, sutra calligraphy.

Application:
1) For environmental purposes, all applications must be submitted online. Please visit the event website for online application forms.
2) Admission list will be posted on the event website and acceptance notice will be sent by email on June 15th, 2018.

Registration Fee:
Food and accommodation, and seminar fees will be sponsored by the organizers for the duration of the seminar.
(Please arrange own airfare, transportation to FGS and personal expenses)

Registration Deadline: From now until fulfilled.(April 30th, 2018 for students currently studying in Mainland China)
Contact: Fo Guang Shan Volunteer Association,Dashu, Kaohsiung 84049,Taiwan, R.O.C.
Email: fgs.lifeandchan@gmail.com
Tel: +886-7-6561921 ext. 5365
Fax: +886-7-6565420
URL: http://www.fgs.org.tw/events/lifeandchan (Online applications accepted only)